Loyalty Schemes: Beware of the Small Print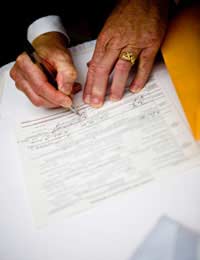 Signing up for a loyalty scheme, whether it's through a store or credit card, will come with terms and conditions. Customers should be aware of the small print in order to avoid being burnt when its time to redeem rewards.
Why Should I Bother Reading All The Small Print?
Loyalty schemes can bring rewards to customers who use them correctly. Cashback, reward points and money off vouchers are just a few of the ways that customers can save money by using these schemes. But loyalty scheme providers are in the business of making money. The small print in loyalty scheme contracts can save the providers money if the customer is not aware of the terms and conditions. It is vital customers always read the small print in order to make sure they meet all of the loyalty scheme's terms.
How Can Customers Lose With Loyalty Schemes?
There are a number of ways that customers can lose out on their loyalty schemes. Credit card loyalty schemes are often a waste of time if customers do not clear their balance each month. Those points will simply be sucked up in the accruing interest if balances are not cleared. Customers can still receive vouchers but the amount actually spent on interest will completely negate the value of the points. In other words, if customers don't clear their balances they are simply paying extra for their goods, even with points.
Can I Lose Out On Cashback Schemes?
Cashback schemes are dwindling and some providers are withdrawing them altogether. One of the major small print terms and condition of credit card cashback schemes is that balances must be cleared. Not clearing monthly balances will mean that customers will not receive any cashback. It doesn't matter how much customers have spent on their credit cards, if the balance isn't cleared they won't get the cashback. Many consumers have been caught out with this small print clause simply because they haven't read their contracts.
What Difference Does Shopping Around Make?
Many customers think that using a credit card loyalty scheme will provide the same amount of points no matter where they shop. But this is another clause designed to keep customers shopping at the one store. Using a credit card provided by a store will generally give one point for every £1 spent. Using the credit card away from the store will then lower the value; one point for spending £2. Loyal customers will receive more points for their money, disloyal customers will be penalised.
What Else Will Make A Difference To My Points?
The terms and conditions will inform customers exactly what purchases can earn points and what cant. Most of the providers will have different stipulations when it comes to earning points. For instance, one loyalty scheme might not allow points for cash advances or foreign exchanges purchases, while another won't supply points for buying petrol. Always check to see what will earn the points and if the specific loyalty scheme is relevant. Consumers who purchase a lot of petrol won't benefit from schemes that don't provide points for buying petrol.
Which Loyalty Schemes Are Most Restrictive?
Loyalty schemes through credit cards definitely seem to have the most restrictions compared to store loyalty cards. Credit card loyalty scheme providers will be looking to make a profit and this is why there are so many terms and conditions. Some credit card companies are actually charging a fee in order to use their loyalty schemes. Some stores are also now combining their credit cards with their loyalty store cards, which could mean more restrictions. A number of customers have been caught out thinking they were signing for a store loyalty card that turned out to be a credit card.
Can I Complain About These Restrictions?
As far as the providers are concerned, customers have agreed to all terms and conditions on signing the contract. Many consumer rights organisations do claim that some of the restrictions can be deemed unfair and can be disputed. If the small print was written in an unclear manner or is deliberately designed to be confusing then it might not be enforceable. The best bet is to read all of the terms and conditions thoroughly before signing any loyalty scheme contract.
You might also like...