Men Vs Women: Shopping and Loyalty Cards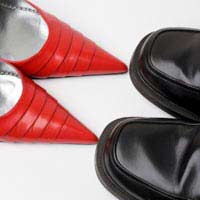 It will probably come as no great surprise that men and women show major differences when it comes to shopping. But there are also some gender differences when it comes to loyalty cards and rewards.
Men versus Women and Shopping Differences
When it comes to shopping men and women tend to fall into 'men buy, women shop' categories. Men tend to see shopping as something of chore and their main objective is to get in, buy the product and get out again. Women turn shopping into an experience to be enjoyed; talking to sales staff, seeking product advice and taking their time to look around. These findings were the result of study by the Verde Group who specialise in helping companies with customer satisfaction. Men are seen as task orientated shoppers while women focus on interacting and engaging with people in the stores.
Men and Women, the Shopping Evolution
Men and women's shopping habits are described as an ancient gendered instinct. Men see shopping as simply hunting, and women's instincts are more prone to gathering. Men have described shopping as 'going in for the kill' while women take their time and choose from many different sources. Before men go shopping they already have the items they wish to purchase lined up in their mind and where to purchase them. If the item is out of stock they will simply move on without looking for alternatives. This type of behaviour will no doubt be viewed as a generalisation by many people but marketing research does support this theory.
Men, Woman and Loyalty Cards
Although men and women do shop differently the figures for loyalty cards are not too hugely dissimilar. Around 52% of women carry loyalty cards while 33% of men use loyalty cards. This slight difference comes from the fact that women such as mothers are seen as the primary shoppers in the family. According to the marketing experts the surprise comes with the finding that just over a third of the male population actually carry loyalty cards. Retailers are now telling loyalty card promoters not to hesitate when it comes to pushing loyalty cards and reward schemes at male shoppers.
The Case against Store Loyalty Cards
Loyalty cards do seem to be either a love them or loathe issue for both men and women. Many people cannot stand loyalty cards for a number of reasons including:
The issue of customer data collection and invasion of privacy that comes with using loyalty cards
Multiple cards taking up too much space in wallets and purses
Sales assistants repeatedly asking if the customer has or wants a loyalty card
The junk mail that comes with signing up for a loyalty card
The tiny rewards given for the large amount of money spent
Perception that loyalty cards are a marketing ploy to make people spend more money
The confusion over how and where to spend rewards
The Confusion Issue with Loyalty Cards
When it comes to actually using loyalty cards there does seem to be some confusion. Around 36% of people who have loyalty cards do not know how to use them or redeem their points. When it comes to redeeming points 17% of men don't bother although they are aware that they have redeemable points on their loyalty cards. Almost 20% of both men and women will simply sign up for loyalty cards without understanding how to use them. When it comes to actually using and redeeming loyalty points men and women both have the confusion factor in common.
More Men than Women Missing Out on Loyalty Points Redemption
A common factor between men and women according to marketing researchers is that they are both missing out on their rewards. Almost £5.2 billion worth of loyalty points lies unclaimed in the UK. Men and women are both guilty of failing to redeem loyalty points although men are less likely than women to cash in their rewards. Although 68% of the people surveyed think loyalty schemes provide good value for money around 36% don't bother to collect their rewards.
When it comes to shopping and loyalty cards, women are the winners in the battle of the sexes. Women account for 83% of consumer spending and retailers are aware of this. It would be far easier for the retailer's to market to men and women as one group when it come to advertising goods and store loyalty cards. But research statistics indicate that women are the major target audience when it comes to both shopping and store loyalty.
You might also like...