Store Card Debt & How to Manage it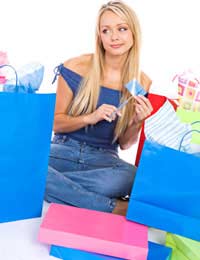 Store card debt is one of the main causes of the debt problem in the UK. Today's culture of 'buy now, pay later' has had a huge impact as credit card and store card debt has risen dramatically over the last 10 years.
Almost everyone has been offered a store card at some point. You can't really escape it since almost every store and business offers some sort of credit card. Many of us have signed up for one but it is what happens next that is the problem.
Having a store card is fine. Using a store card sensibly is fine. But using a store card irresponsibly means you're heading for trouble. It is all about store card debt management.
Why Are We In So Much Debt?
In Britain today consumers don't want to wait for anything. Forty years ago if you wanted to buy something you saved. Once you had saved enough money you went out and bought it and it as all yours. Nowadays people don't want to save. This culture was reflected in the mortgage industry when lenders were offer mortgages without needing a deposit of any kind.
Gone are the days when a couple would have to save money for a deposit to buy a house. And the same thing is happening in all areas of retail. If you want a widescreen television you don't have to save for it, just stick it on your credit card! You want to go on holiday? Don't worry about putting a little away each month, just put it on the card.
Store owners have capitalised on this trend and invented the store card - a card which allows you to buy any product from that shop now and pay for it later. The problem is you most certainly will pay for it, in fact you'll pay more for it.
Interest rates on store cards are notoriously high so for every purchase you make you could pay around 20% on top. This has meant store card bills have continued to rise and therefore consumers are unable to pay off the balance each month, thus accruing more interest - it's a vicious circle.
How Can I Control It?
Store card debt can be controlled though, but only if you are sensible when it comes to your monthly bill. When you use your card in the store make sure you are not buying anything out of your price range. If you would not be able to afford it when you get paid then you cannot afford it now. This way, when your monthly bill comes you should be able to pay it off. If you start buying things that are well out of your price range then you will not be able to pay off the monthly bill and you will find yourself spiralling into debt.
What Happens If I Am In Too Deep?
If it is too late and you are already deep in store card debt then you must first speak with a debt counsellor and secondly contact the store. Explain your situation. They may be able to offer you a different payment plan. Do not bury your head in the sand, there are people who are able to help you.
You might also like...