Some Common Store Card Scams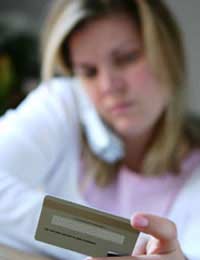 Store cards, like credit cards, can be dangerous if they fall into the wrong hands – namely for the person having to foot the bill! However it is not just theft and fraud you need to worry about it. At times the scams actually happen in-house. In other words the store itself may be the one taking you for a ride!
But it is not necessarily scams that take place, it is more likely down to the fact the customer is not informed of the consequences of taking out a store card and therefore feel they have been victims of fraud. Like with a lot of financial products the small print is often not pointed out to the consumer. That's why they call it small print! And consumers often find themselves signing up for things they can neither afford nor need.
Commission
The other problem that arises in these cases is the staff member often receives a commission each time they sign someone up to take out a store card. This raises the question of whether or not these people are acting for the consumer or for themselves. It could be argued some staff offer the cards with an ulterior motive – in order to gain commission for themselves.
The other issue of course is whether or not the store staff are adequately qualified to distribute store cards. Store cards are effectively credit cards. The consumer can buy products on credit and pay for them at a later date and the balance gains interest until it is paid back.
When a consumer goes into a bank and tries to take out a credit card checks are usually made to see what that persons past credit history is like – in order to ascertain whether or not they can manage monthly payments. However in some store a shop assistant who could be as young as 16 and with no experience of financial services offers any person who wants a store card the chance to have one.
This is looked upon as hugely irresponsible on the stores' part. They have a duty to do right by the consumer and by allowing a person with a poor credit history to take out credit and not explaining the consequences for this and then paying a member of staff for doing so many would say they are certainly not doing their duty. It is this that often leaves consumers feeling they have been the victim of fraud and finding themselves with a large bill that is continuously gaining interest that they cannot pay off.
Store card scams are rare but you may feel hard done by when you take out a store card unless you ask to know all the details and you consider whether or not you can viably take out the card. If you don't think you will be able to keep up monthly payment, along with an excessive interest rate then you should decline the offer, regardless of how persuasive the shop assistant is – remember there is more in it for the staff and the store than there is for you, the consumer.
You might also like...