Rewards Schemes for Employees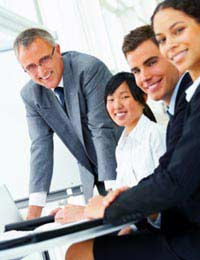 Large businesses will usually have some form of rewards scheme set in place for their employees. But small and medium businesses should consider implementing a rewards scheme if they are serious about keeping their employees.
Reward Schemes for Small and Medium Businesses
There is one major factor that usually stands in the way when employers consider employee reward schemes; the cost. Too many small and medium sized business owners consider the cost of setting up an employee rewards scheme outweighs the actual benefits. But incentives and rewards are extremely useful when it comes to retaining employees and keeping them motivated. A reward scheme is a form of recognition of the hard work undertaken by employees. Employees do not usually require the same size of reward schemes that are offered by major businesses but simply some form of acknowledgment for their efforts.
Why Small and Medium Businesses avoid Reward Schemes
The cost of setting up and running a rewards scheme is the major obstacle when it comes to setting up a scheme. Most employers are under the impression that they will need to seek outside help from professional incentives companies. The extra expense, accounts work and time spent setting up and running the schemes are the biggest obstacles for employers. In reality price does come down to what can be afforded from a budget. Employers can simply start a rewards scheme with an amount they can afford and this does not have to be a huge expense.
The Benefits of Employee Reward Schemes
The biggest benefits of employee rewards schemes are motivated employees, increased productivity and staff retention. Losing even one employee is a big expense. It costs time and money to advertise for, interview and train up new employees. It also only takes one member of staff to hand in their notice to cause an effect on the motivation of other staff members. Employers can reduce the likelihood of unhappy employees moving elsewhere for a better employee package, simply by implementing some form of rewards scheme.
Increased Profits with Employee Reward Schemes
Employee reward schemes cannot guarantee increased profits but they do increase employee motivation. Employees who are recognised for the work they do are more likely to be happy and apply themselves in their jobs. This has the knock on effect of making employees feel like part of a team rather than just another payroll number. Employees who are rewarded for their efforts feel more committed to a company and are more likely to want to increase profitability. All of these factors can be the result of simply implementing some form of employee rewards scheme.
How to Implement an Employee Rewards Scheme
Data collection from employees should be the first step when considering some form of employee recognition scheme. Too many employers simply disregard the employee's views on the subject. Employers won't be able to keep everyone happy, and the age of the employee will make a difference to how they view the importance of various rewards. But taking the time to hear the views of the staff is an act of employee recognition in itself. Once the data has been collected the rewards scheme can be decided on by popularity and budget considerations.
Employee Reward Schemes that Do Work
It does not take much to implement an employee rewards scheme and there are a number of different ways to recognise employees. This can include:
Financial bonuses for hitting specified targets
Implementing a flexi time schedule for employees
Allow workers to telecommute once or twice a month
Recognise employee efforts by saying thank you in writing and keeping this on file
Office lunches paid for by employers
A Christmas party paid for by the employers is a once a year employee reward that benefits all employees
Provide free teas and coffees for all employees
Increase employee responsibility if this is important to employees
Most of the above employee reward schemes will not break any employer's budget and a few are free to implement. Simply taking the time to thank employees for their efforts will be a start. Happy employees are motivated employees and this can make all the difference in a workplace. In most cases, employee reward schemes will pay for themselves through increased employee motivation and productivity. Employers should ask themselves whether they can afford not to implement an employee rewards scheme.
You might also like...