The Dangers of Using Supermarket Loyalty Cards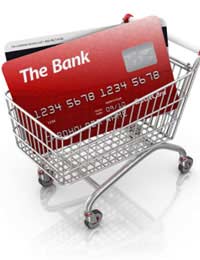 Supermarket loyalty cards would simply appear to be a way to receive rewards for buying products at a certain store. But according to consumer watchdog groups these cards are used by supermarkets for numerous reasons including encouraging shoppers to spend.
Supermarket Loyalty Cards, Something for Nothing?
Although they may seem like an excellent bargain for the customer, supermarket loyalty cards do work in the store's favour. Supermarkets wouldn't spend millions every year producing and promoting their loyalty cards if they didn't see some sort of benefit. One of the major benefits of loyalty cards to the stores is that customers will stay loyal to one store if they are receiving rewards. This reason seems harmless enough and simply appears to make good business sense. But one of the main aspects with loyalty cards is that they encourage shoppers to spend more money.
The Psychological Element of Supermarket Loyalty Cards
According to consumer watchdog groups it is the receiving of something for nothing aspect that appeals most to shoppers. Although shoppers do have to spend to receive rewards the actual rewards themselves feel like gifts; something everyone loves to receive. This is a psychological element that underlines supermarket loyalty cards. The supermarkets are basically saying that if shoppers stay loyal and spend money they will receive gifts. The fact that shoppers are basically giving themselves these gifts when spending in the supermarkets does not make any difference.
The Temptation to Spend More with Loyalty Cards
Over 85% of households in Britain have one of more store loyalty cards. The store loyalty card market is competitive and supermarkets will bring out special offers to entice customers to stay loyal. Special weekends with double points can see customers spending more simply for the extra rewards. Promotions where certain products come with extra points are designed specifically to entice customers to buy products. This is also why supermarkets place extra points products on shelves at eye level; to catch the customer's attention.
Staying Loyal at the Shopper's Expense
Many customers will stay loyal and spend only in one supermarket because of the rewards that can be gained. Some shoppers will actually do this even if goods can be bought for less money elsewhere. This is one of the major psychological elements of supermarket loyalty cards that can actually lead to wasted money for the consumer. Loyalty cards can be beneficial but paying more than necessary for goods simply for the points is not worth the extra expense. If you receive back one pence (one point) for every pound you spend in supermarkets you will need to spend £1000 to receive £10 in rewards.
Redeeming Supermarket Loyalty Rewards
Although many people carry loyalty cards many shoppers are actually unaware of how to redeem their rewards. One in five loyalty card holders claim they have either lost their cards and not transferred their points or wouldn't know how to redeem the rewards. Around 20% of card holders claim that they simply could not be bothered to redeem the points. This is good news for the supermarkets but is simply wasted money for shoppers.
Avoiding the Dangers of Supermarket Loyalty Cards
There are simple ways for customers to use their loyalty cards and still come out on top. These will include:
Never buy at one store if goods can be bought for less money elsewhere
Always redeem points and use reward vouchers
Don't be enticed by special promotions unless the goods were to be purchased originally
Never be enticed into spending more simply to collect points
Set a budget when shopping and stick to it to avoid buying goods simply for the extra points
If choosing a loyalty card research which card brings the most benefits when used to purchase goods
There are supermarkets that prefer to simply provide low prices rather than provide customer loyalty cards
Consider how much actually has to be spent for the very little rewards if spending simply to collect points
Very rarely do businesses ever give something for nothing and loyalty cards are no different. If used correctly the loyalty cards can provide rewards for customers who do shop at the same store because of price or convenience. But customers should be wary of the psychological aspects that come with supermarket loyalty cards that are in place to benefit the stores.
You might also like...