What if My Loyalty Card is Unused?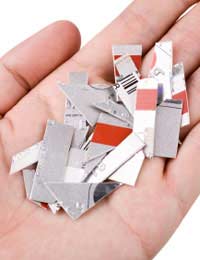 We've all done it. You get a loyalty card because it seems like a good idea at the time – the friendly store assistant explains how you could get double points on the product you're buying if you take out a loyalty card there and then and since it costs nothing you thought why not?
But after collecting those initial points the card goes into your purse and you never get it out again. There's no particular reason why you don't get it out. You know it costs you nothing to collect the points and you know there are benefits to using the card but for some reason you just don't get round to using it again. But what happens next?
Different companies have different policies when it comes to not using your card so if you haven't used your card in sometime and you're wondering whether you still can it's best to enquire at the company your card is with. However there are three general courses of action that could be taken next.
Some Cards Last Forever
A lot of loyalty cards can be unused for years but are still useable. As long as the company remains largely the same i.e. not big takeovers etc then it is likely your card will still be able to be used regardless of how long since you have used it. Once again though it's best to check with the company your loyalty card is for just in case this isn't the case.
Schemes Get Updated
Companies like to have you as a 'loyal' customer – even if your loyalty has waned of late and you haven't been a frequent user of the loyalty card. Therefore they do not like to cancel your card if they don't have to. Because of this it is unlikely your card will be cancelled if you do not use it.
However, sometimes schemes are updated and changed your card and how it works may no longer adhere to the new system. If this is the case though the store or company will most likely give you a new card for the new scheme with minimal fuss in order to keep you interested.
Cards Get Cancelled
In some extreme cases loyalty cards may get cancelled if they are not used. There may also be an expiration period on the point whereby if you do not use them within that time period they are no longer valid. If this is the case the store or company will most likely encourage you to open a new loyalty account and issue you with a new card. After all, they want your custom!
Loyalty cards are there to benefit the customer with reward schemes and points however they are obviously primarily created in order to keep customers returning to the store and keep them loyal to the company. Therefore even if your card is inadvertently cancelled the store or company will most likely do anything in their power to rectify the situation and keep you happy to ensure your custom in future.
You might also like...