Rail Travel Loyalty Schemes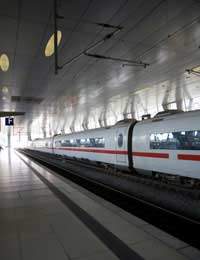 If there is one thing every one in the country has complained about at some point it is public transport. We complain that it's always late, that the conditions are awful and, of course, that it is far too expensive. Well at least on the latter there is something that can be done.
Rail loyalty schemes off you the opportunity to save on your rail fares in an attempt to keep you using the train. But how do they work? Are they worth it? And how do I join one?
How Do I Join a Rail Travel Loyalty Scheme?
Rail travel loyalty schemes are not always well advertised. However the most popular for of rail loyalty scheme is the season ticket scheme. If you travel on trains regularly with the same rail service then purchasing a season ticket may be beneficial to you.
The Season Ticket Scheme
The season ticket schemes differ between rail companies. Some offer a scheme by which you purchase a ticket that covers all your rail travel for the year. By paying for the years travel you receive a discount i.e. much like when you buy in bulk. Your ticket though can only be used on that rail service so you should only consider this if you use the same route often.
Other companies offer a loyalty scheme by which you will receive emails informing you of cheap deals and letting you know when tickets are first available giving you the chance to get tickets before anyone else.
These schemes do not tend to cost anything to sign up to and the idea is you will be encouraged to continue using the rail service thereby earning them money.
Rail cards: What Are They & Can I Get One?
Another form of loyalty schemes are rail cards. These cards are usually only offered to a certain number of people. There are a variety of cards on offer including Young Persons Rail cards and Senior Citizens railcards. For a one of cost of around £20 you purchase the rail card and can then use it to get a discount off all future rail journeys. This may differ between cards but is usually around a third off.
Obviously there are criteria that must be met to apply for one of these cards, age being the main one. But if you are able to apply it could be well worth it and could help you save quite a bit.
Rail travel loyalty schemes can help you make a decent saving on the rail travel you do. Just make sure you read all the small print and have considered whether joining the scheme will be of any cost to you and, once you have joined the scheme, be sure to use it to your advantage by following any guidelines given about travel time etc. With the right research rail travel schemes could mean there will be one less thing to complain about when it comes to complaining about public transport.
You might also like...