Environmentally Friendly Loyalty and Reward Schemes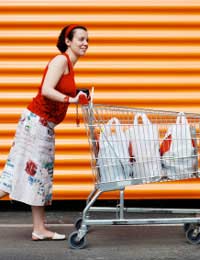 Environmental issues are an important issue to many people, and consumers can now help the environment as they shop. There are a number of loyalty and rewards schemes on the market where the emphasis is on environmentally friendly shopping.
Environmentally Friendly Shopping in the UK
Supermarkets and businesses in general have been recognising that customers are concerned about environmental issues. One of the first steps taken by many major stores was to start charging money for plastic shopping bags. This was implemented as a way of encouraging customers to start reusing carrier bags and to reduce waste and increase recycling. UK businesses have also been looking at ways of rewarding customers for environmentally friendly shopping. There are now loyalty schemes available whereby customers can choose sustainable products and be rewarded.
Websites for Environmentally Friendly Shopping
Customer rewards can be achieved by shopping through environmentally friendly shopping sites. Smartly Green, Green Rewards and Ice are only a few of the companies that encourage shoppers to be eco friendly while shopping. Ice rewards shoppers with discounts on future shopping when they buy environmentally friendly and energy saving products. Shopping through the Smartly Green website will not cost any extra but 50% of received commissions will be donated to the Cool Earth rainforest charity. Register with the websites, shop, make a difference to the environment and receive rewards.
Extra Rewards for Green Customers
Environmentally friendly shoppers can pick up extra rewards or 'green points' through certain supermarkets. Big stores such as Tesco do give 'green points' to customers for reusing shopping bags, recycling old mobile phones, cans and inkjets. Supermarkets such as Tesco also offer home deliveries where customers can choose not to have their products delivered in bags. Customers who choose this option will receive extra loyalty points. The green points can be redeemed in exactly the same way as normal loyalty points.
Shop with Environmentally Friendly Companies
There is a huge amount of companies that now sell products approved by the Fair Trade organisation. This means that the retailers support fair payment to the manufacturers from developing companies. This can also include supporting manufacturers who have eliminated agrochemicals in their products. Shoppers can obtain discounts and rewards when buying from Fair Trade companies such as Aunuba and Real Coffee. For more information on Fair Trade companies take a look at the Fair Trade organisation website.
Donate to Eco Friendly Charities through Airmiles
The Airmiles loyalty scheme is well known in the UK and provides cheap or discounted flights by collecting Airmiles points. Carbon emission is a big issue with eco campaigners, and Airmiles has opened a Green Shop and donates profits to many eco charities. Customers who shop at Airmiles Green Shop can collect extra points. This includes purchasing goods and recycling mobile phones through Airmiles. The Eden Project in Cornwall and the Wildfowl and Wetlands Trust are just two of the many eco projects donated to through Airmiles.
Be Rewarded when Choosing Paperless Billing
Many consumers have now chosen the paperless billing route. This means receiving bills from companies such as energy suppliers via email rather than the traditional postal route. Choosing to go paperless brings a number of environmentally friendly results. Savings are made on paper, transport costs and manpower when using paperless billing. Many companies are now charging customers who do choose to receive their bills by post. Customers who choose the paperless route combined with paying bills by direct debit can be rewarded with savings of as much as £100 a year.
Environmentally Friendly Shopping and Customer Rewards
There is a wide range of ways to become environmentally friendly when shopping that will save money and provide rewards. These can include:
Receive rewards and cash when recycling mobile phones and inkjet cartridges
Reuse shopping bags and receive extra points at supermarkets
Go for loyalty schemes that donate to charities and provide extra rewards for 'green' shoppers
Shop through environmentally friendly websites that will provide rewards and discounts
Reduce your carbon footprint by using the government's bike to work scheme and receive a discounted bicycle
Use companies that help environmentally friendly issues and provide customer rewards
Use 'eco friendly' credit cards where a percentage of profits are donated to eco causes; yes these do exist
It is in everyone's best interests to become environmentally aware. Environmentally friendly shopping is a great way to help the environment by buying sustainable and energy efficient products. Becoming an eco friendly shopper will not make much of a difference to shopping habits but can make a difference to the planet's future.
You might also like...