Rewards and UK Holiday Attractions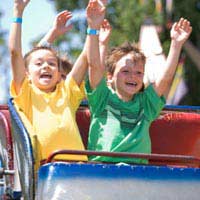 Loyalty schemes come with a variety of rewards including free or discounted entry to many UK holiday attractions. Loyalty points can also be redeemed on hotel accommodation, flights and rail travel.
Cutting Holiday Costs with Loyalty Schemes
The cost of a holiday or visits to UK holiday attractions can be reduced when using points collected through loyalty schemes. Many of the big retailers that run loyalty schemes work in partnership with well known holiday agencies and tourist attractions. Accrued points can be redeemed against a wide variety of holiday packages or entry to popular UK holiday attractions including famous theme parks. This can work out to be a great financial saving especially for parents with children.
Redeeming Vouchers and Loyalty Points
When shoppers purchase goods in stores using a loyalty card they are entitled to money back in the form of vouchers. Different retailers will run their own schemes. Tesco Clubcard gives money off in the form of vouchers. Nectar Card holders can redeem points in exchange for accommodation, flights, train travel and car rental. The more reward points collected the more discount can be made on the desired holiday items. An extensive list of the companies that offer these discounts in partnership with loyalty cards can be found at the loyalty card websites.
Holiday Attractions in the UK
The UK is home to many excellent holiday attractions within easy travelling distance. As an example of how the loyalty schemes work, a £10 reward voucher through Tesco will give a one day entry token to the famous Alton Towers theme park. Loyalty card holders can search for attractions on loyalty card websites in categories such as Days Out, Families or by location. Vouchers and rewards points can be redeemed against holiday attraction such as:
Adventure Island Theme Park in Essex
Brean Leisure Park in Somerset
Chessington World of Adventures in Surrey
Legoland in Windsor
The Pleasure Beach in Blackpool
Thorpe Park in Surrey
Amazon World Zoo in the Isle of Wight
Auld Reekie Sightseeing Tours in Edinburgh
Extra Points to be Made When Booking Holidays
Not only can customers obtain money off discounts against holiday attractions but they can also receive points when booking holidays. Holiday companies that work in conjunction with loyalty card suppliers will provide points when holidays are booked. Certain companies will provide thousands of loyalty points when customers book package holidays, flights and hotel accommodation. Booking car rental and car recovery membership will also mean thousands of points added to a loyalty card. Many holiday companies will also offer discounts of up to 40% on their holidays as well as the loyalty points.
Hotel Loyalty Cards and Rewards
The big hotel chains have always offered rewards to their customers but have now fully embraced the loyalty schemes. Frequent visitors who use these loyalty schemes can redeem points against a range of hotel accommodation in the UK and abroad. This can be very useful when used in conjunction with a weekend break to major holiday attractions such as theme parks. Hotel loyalty schemes do not just cover accommodation but can also be used for car rental, restaurants, spas and health facilities and tourist attractions.
Holiday Attractions for Adults
Adults who are looking for a few days holiday at UK attractions can redeem their loyalty points at a diversity of venues. This can include whiskey tasting tours in Perth and Edinburgh, and wine tasting tours in London. Entry to famous museums such as Milestones in Basingstoke and stately homes such as Hatfield House can also be obtained by using loyalty schemes. Health and fitness days to facilities such as Float Works in London and the Sk:n Clinic can also be free of charge to those with enough points on their loyalty cards. Even a holiday in Cuba with Virgin is possible for those who rack up those loyalty rewards.
Holidays can take a huge chunk of money from a family budget even if it's just a day out to a popular tourist attraction. Shrewd loyalty card holders can save a huge amount of money when it comes to hotels, holiday attractions, dining out and travel expenses. Loyalty rewards that are built up throughout the year can turn into a financial blessing for families with children when the holiday season does arrive.
You might also like...